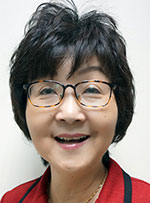 Mdm.
Tan Cheng Liang
Chief Executive Officer
Greetings from VTAR Institute (VTAR)
Welcome to all the September 2021 Intake students to VTAR Institute!
We are excited that you have chosen VTAR Institute and we are glad you've joined the VTAR family. Our Institution took preventive measures by disinfecting all the classrooms every day, compulsory to wear masks or face shields, enough sanitizer, keep social distance and measure body temperature at the Institution lobby daily. With such preparations, we feel more secure when our students back to Institution. We are looking forward to meeting new faces and also would like to welcome our existing students to continue their second year. We also hope all of you are recharged and ready to start a new term together with new intake students.
At the same time, we are proud to announce the virtual signing of the Latest Memorandum of Understanding (MoU) and the Memorandum of Agreement (MoA) between the International Cultural Communication Center of Malaysia (ICCCM) on 5th October 2021. With the signing of this memorandum, VTAR will cooperate with ICCCM to provide a Dual Award Programme to our SKM 2 & SKM 3 students to continue their studies in China without paying any tuition fees. This would be a great opportunity for all our students at VTAR, especially from B40 families by reducing their family burden on tuition fees. Through this programme, we help the nation to produce more professional personnel to fulfill the market demand.
Our Instructors, staff and administration are focused on providing quality training and learning experience for all students through the various curricular and extracurricular opportunities available. Our focus as educators will continue to be on preparing students for college and careers by developing essentials skills and behaviours in a safe, supportive environment. Our highly skilled Instructors, who are experienced and dedicated, embrace flexibility in giving skill training and build a strong relationship with all students.
We encourage you to take the time to browse our website. You can enjoy viewing our character building activities, open day, sports, career fair and will find out more about VTAR's holistic training, our mission and vision and be confident that VTAR is the right choice for you.
And with this, we wish you every success at VTAR Institute and we are confident that you will find it an immensely rewarding experience.