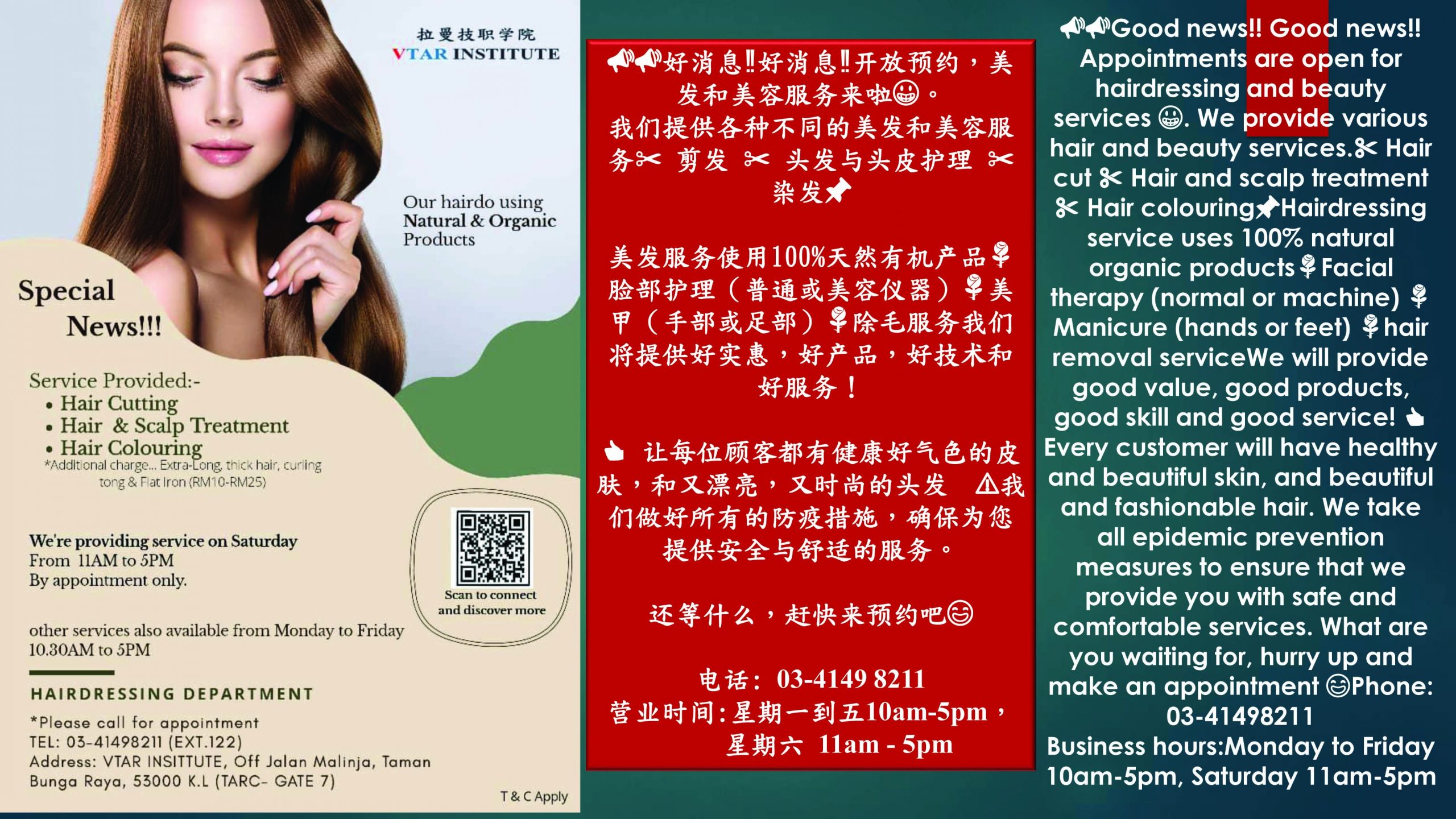 Hair Service List (For Public/Outsider) Service By Trainee
|   | Short | Medium | Long | Ex-Long |
| --- | --- | --- | --- | --- |
| Wash & Blowdry | 10 | 15 | 20 | 25 |
Swipe to right >
| Cut (Men) | Short | Medium | Long | Ex-Long |
| --- | --- | --- | --- | --- |
| Just Cut | 12 | 17 | – | – |
| Wash, Cut & Blowdry | 18 | 23 | – | – |
Swipe to right >
Cut (Lady)
Short
Medium
Long
Ex-Long

Just Cut

20
30*

Wash, Cut & Blowdry

28*
38*
Swipe to right >
| Treatment | Short | Medium | Long | Ex-Long |
| --- | --- | --- | --- | --- |
| Hair Treatment | 55* | 60* | 75* | 80* |
| Scalp Treatment | 55* | 60* | 75* | 80* |
| 2 Steps Treatment*** | 70* | 75* | 90* | 95* |
| 2 Steps Scalp Treatment*** | 75* | 80* | 95* | 100* |
Swipe to right >
Colouring
Short
Medium
Long
Ex-Long

Basic Colour

75*
105*
140*
170*

Root Re-Touch (1 inch)

W/O shampooing & blow-dry

–
70*
100*
130*
Low-Light / Hi-Light
100*
120*
140*
160*
2 Tones colour
70 above*
Pre-Wash colour
50 above*
Colour Correction
50 above*
| PERM | Short | Medium | Long | Ex-Long |
| --- | --- | --- | --- | --- |
| Natural curl | 120* | 150* | 190* | 220* |
| Volume Rebonding | 80* | 100* | 120* | 130* |
Swipe to right >
By Appointment Only
Monday to Saturday: 10.00 am to 5.00 pm
Close on Sunday & Public Holiday
Tel: 03-4149 8211
Ext: 112
* please take note this dates: 13th June 2023 & 18th July 2023 until 20th July 2023 are not available for appointment & hair salon services.
---
Term & Conditions:
Our hair do services are using Natural & Organic products such as shampoo, conditioner, treatment, colour, perming & styling products.
* Additional minimum charge RM10+ for thick & very damage hair.
***2 step treatment is including hair and scalp treatment.
Price are subject to change without prior notice.
* For appointment/reservation, please click service appointment form to fill in
* Appointment must be made at least One (1) day before
* For rescheduling or cancellation of your appointment, please contact us at 03-41498211/0102257831/0102257832 
---
Products
   For
  Sale