Aesthetic Services 美容服务
Duration: 1 Year 9 Months + 3 Months OJT
修习期:1年9个月 + 3个月(在职培训)
Entry Requirement: 15 Years & Above
入学资格:年满15岁
Theory & Practical
理论与实践
Assist Loan Application *
可安排申请贷款
* Terms and Conditions Apply 须符合条件*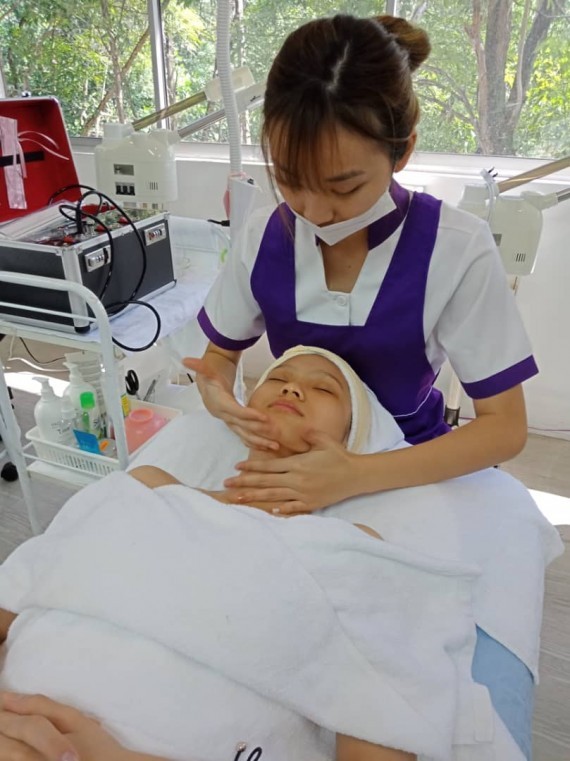 Course Overview
VTAR Institute is one of the training institutions that provides training in Beauty Therapy Course in Malaysia. The content of the training is based on the NOSS (National Occupational Skills Standard) content of Aesthetic Services.
Aesthetic services offer a wide variety of skin/body improvement and enhancement manually or by using the equipment. The services include activities such as manual facial services, facial electrotherapy, superfluous hair depilation and lightening, manicure and pedicure, henna artwork design, Eyelash/Eyebrow enhancement and make-up for day and evening occasion.
Participants of the course will learn skills to improve client's face, hand and foot skin condition, blood circulation, and muscle tone, giving the effect of moisturised and glowing skin. Participants also will learn the skills of enhancing clients appearance by removing/lightening unwanted superfluous hair, grooming fingernail and applying henna artwork design on hand/foot or concerns area, tinting /perming eyelash/eyebrow and finally transforming client's look to their desire using make-up products.
With the demand of skilled workers in the field of aesthetic services, there is a need for the industry to produce quality, professional, well-trained and certified practitioners to fill the demand in the country. As one of the providers of training in Beauty Therapy course in Malaysia, VTAR will help to produce a competent workforce that adheres to good practices when providing services or when administering treatments in the beauty industry.
课程大纲
拉曼技职学院是其中一所提供美容护理课程培训的学院,其培训的内容是依据国家职业技能标准(NOSS)。
美容服务提供手动或以仪器设备来改进和强化各种类的皮肤。这些服务包括脸部护理服务,脸部电子仪器护理,脱毛服务,手部和足部美甲服务,指甲花艺术品绘制,眉毛/睫毛修饰服务和化妆。这课程的学生将可以学习到如何改善客户脸部,手部和足部皮肤的状况,增加血液循环和肌肉弹性的技巧,以让皮肤滋润和有光泽。
学生也会学习到提高客户外貌的各种技巧如去除/淡化多余的毛发,指甲修饰,绘制指甲花,染和烫睫毛与眉毛,及化妆技巧。随着美容服务领域对美容师的需求,这行业需要栽培更多高质量,专业,训练有素和获得从业者认证的人才来填补国的需求。作为马来西亚提供美容服务课程培训的机构之一,拉曼技职学院将帮助培训出一支能胜任美容工作及遵守料号品行的美容师。
COURSE OBJECTIVES:
The beauty students upon completion are competent in performing the following core competencies:
perform Workplace Safety, Hygiene & Maintenance
perform Aesthetic Services Consultation
perform Manual Facial Services
perform Facial Electrotherapy Services
perform Superfluous Hair Depilation / Lightening Services
perform Manicure Services
perform Pedicure Services
perform Aesthetic Therapy Consultation
perform Manual Body Massage Service
perform Body Wrap Service
perform Thermal Body Therapy
perform Body Electrotherapy Service
perform Decollete Therapy
perform Salon Operation Supervision
perform Salon Services and Products Sales
课程目标:
美容的学生在完成培训后能够执行以下的职能:

执行工作场所安全,卫生和保养
执行美容咨询服务
执行脸部护理服务
执行脸部电子仪器护理服务
执行除毛服务
执行手部美甲服务
执行足部修甲服务
执行美容治疗咨询
执行身体按摩服务
执行身体裹敷治疗
执行热疗美体法
执行电疗美体服务
执行胸部疗法
执行美容院经营
执行美容院服务和产品销售
course structure
课程结构
Workplace Safety, Hygiene & Maintenance
Aesthetic Services Consultation
Manual Facial Services
Facial Electrotherapy Services
Superfluous Hair Depilation / Lightening Services
Manicure Services
Pedicure Services
Aesthetic Therapy Consultation
Manual Body Massage Service
Body Wrap Service
Thermal Body Therapy
Body Electrotherapy Service
Decollete Therapy
Salon Operation Supervision
Salon Services and Products Sales
Additional Skill
附加技巧
Eyebrow / Eyelash Enhancement Services
Make-Up Services
CAREER PROSPECTS 就业前景和领域
Beautician 美容师,美体师
Makeup Artist 化妆师
Beauty Therapist 美容保健师
SPA Therapist 水疗治疗师
Beauty Consultant 美容顾问
Beauty Centre Manager 美容中心经理
Beauty Product and Equipment 美容产品和设备供应商
Beauty Magazine Editor 美容杂志编辑
Cosmetology Tutor 美容导师
Franchisee 加盟商
Own Business 企业