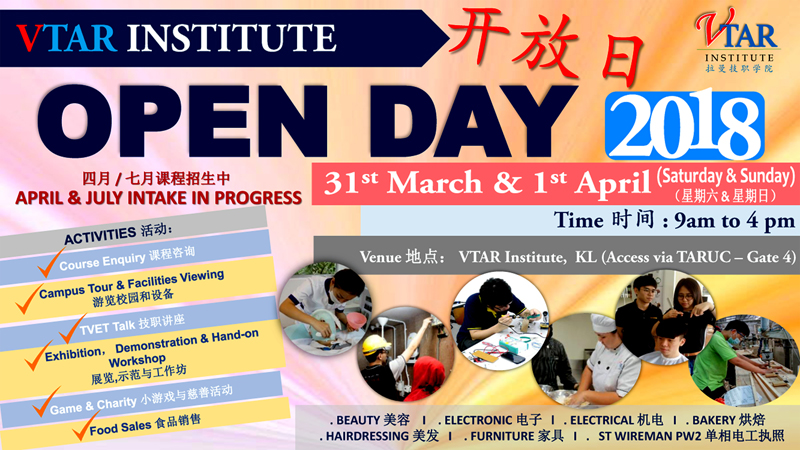 VTAR Institute Open Day 2018
⭐GOOD NEWS
❗GOOD NEWS
❗
⭐
VTAR INSTITUTE OPEN DAY is Coming
❗
Enrolment Available, Welcome to join us!
Date : 31st March 2018 & 1st April 2018 (Saturday & Sunday)
Time : 9am to 4pm
Venue : VTAR Institute, Kuala Lumpur (Access via TAR UC Gate 4)
Activities:
🔸Course enquiry
🔸Campus Tour and Facilities Viewing
🔸 Exhibition & Demonstration
🔸Hand-on Workshop
🔸TVET Talk
🔸Game & Charity Activities
🔸Food Sales
VTAR Institute 2018 intake in progress, limited place.
Interested parties are welcome to sign up as soon as possible!
Courses included:
✅Electronic Equipment
✅Electrical Installation and Maintenance
✅Aesthetic Services
✅Hairdressing
✅Bakery
✅ST Wireman PW2 Course
✅Furniture Technology Certification course
For more details, please call 03-4149 8211 or visit the official website www.vtar.edu.my.
⭐
⭐好消息
❗好消息
❗
⭐
⭐
拉曼技职学院 开放日来咯!
欢迎前来参观。
日期: 2018年3月31日 – 2018年4月1日 (星期六 & 日)
时间: 早上9点 – 下午4点
地点: 吉隆玻文良港,拉曼技职学院
活动:
✅ 课程咨询
✅ 展览与示范
✅ 技职讲座
✅ 游览校园与设备
✅ 工作坊
✅ 小游戏与慈善活动
✅ 食品销售
诚邀家长,老师,学生与大众们亲临拉曼技职学院开放日询问与参观。
拉曼技职学院 课程火热招生中! 名额有限,赶快来报名哦!
目前所提供课程如下:
🔸电子设备
🔸机电装置与维修
🔸美容服务
🔸美发课程
🔸烘焙课程
🔸 单相电工执照课程
🔸家具制造工艺证书课程
赶快联络我们 03-4149 8211 @ www.vtar.edu.my 了解更多详情。