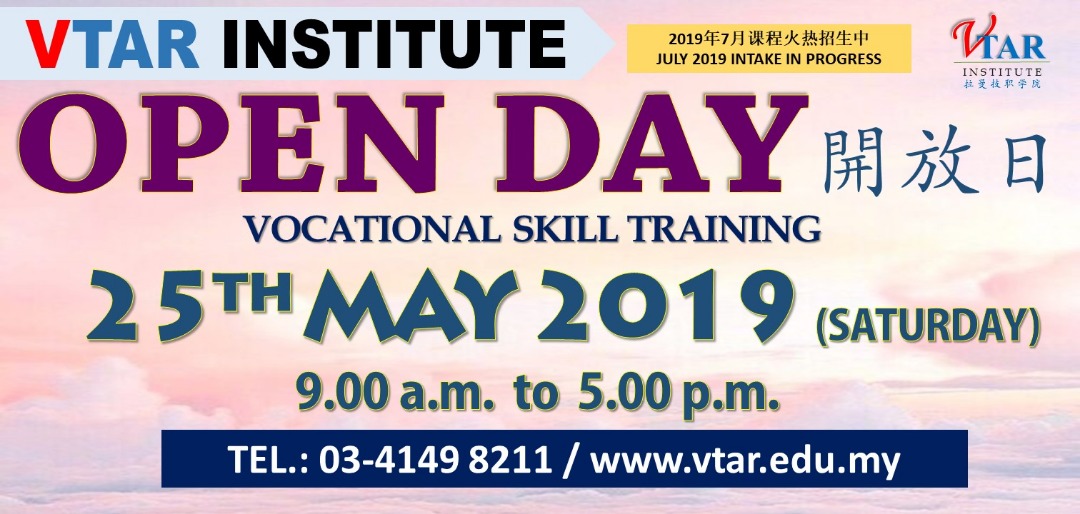 2019年拉曼技职学院 开放日 卷土从来! VTAR INSTITUTE OPEN DAY is Coming Again!
课程火热招生中❗ 欢迎前来参观。
由于今年4月举办的开放日反应热烈,师生与家长们要求举办多一场。
拉曼技职学院再举办一次开放日,让更多年青人受惠。
日期: 2019年5月25日(星期六)
时间: 早上9点 – 下午5点
地点: 吉隆玻文良港,拉曼技职学院
活动:
✅ 课程咨询
✅ 展览与示范
✅ 游览校园与设备
✅ 工作坊
诚邀家长,老师,学生与大众们亲临拉曼技职学院开放日询问与参观。
目前所提供课程如下:
🔸电子设备
🔸机电装置与维修
🔸美容服务
🔸美发课程
🔸烘焙课程
🔸单相电工执照课程
🔸家具制造工艺证书课程
📌在开放日当天报读任何长期课程的学生将会享有200零吉的折扣,只限十个名额,先到先得。📌
赶快联络我们 03-4149 8211 @ www.vtar.edu.my 了解更多详情。
Enrolment Open, Welcome to join us!
Due to good response received from last April open day and the request from public, VTAR decided to host another open day in May 2019 to benefit more young people.
Date : 25th May 2019 (Saturday)
Time : 9am to 5pm
Venue : VTAR Institute, Kuala Lumpur (Access via TAR UC Gate 7)
Activities:
🔸Course enquiry
🔸Campus Tour and Facilities Viewing
🔸 Exhibition & Demonstration
🔸Hand-on Workshop
_VTAR Institute 2019 intake in progress, limited place. _
Interested parties are welcome to sign up as soon as possible!
Courses included:
✅Electronic Equipment
✅Electrical Installation and Maintenance
✅Aesthetic Services
✅Hairdressing
✅Bakery
✅ST Wireman PW2 Course
✅Furniture Technology Certification course
Students enrolled in any full time course during open day will receive a -REBATE- of RM200 in tuition fees. Limited for -10 STUDENTS ONLY-, first come first serve.
For more details, please call 03-4149 8211 or visit the official website www.vtar.edu.my.